🎙️𝙋𝙤𝙙𝙘𝙖𝙨𝙩 𝙍𝙚𝙘𝙤𝙢𝙢𝙚𝙣𝙙𝙖𝙩𝙞𝙤𝙣🎙️⚽🏟️
We hope you are enjoying our weekly podcast recommendations!
This weekend sees the long anticipated @euro2020 UEFA Euro 2020 kick off!  The rescheduled tournament gets underway in Rome on June 11 and runs through to Sunday July 11; Semi-finals and final take place at Wembley Stadium.
Our Podcast recommendation this week is from the @bbcsport BBC Daily Euros: BBC Football Daily.  Your guide to the Euros Uefa Euro 2020
👉 https://play.acast.com/s/5livesfootballdaily/urn%3Abbc%3Apodcast%3Ap09kr0d8
Who are you hoping to win, what team will you follow? 🇮🇹🇹🇷🏴󠁧󠁢󠁷󠁬󠁳󠁿🇬🇧🇧🇪🇭🇷🇷🇺🇵🇱🇪🇸🇸🇪🇫🇷🇩🇪🇫🇮🇸🇰🇳🇱🇺🇦🇲🇰🇨🇿
➡️Make sure to follow our page for all the latest news and events!
#ourpeopleyourteam
#podcast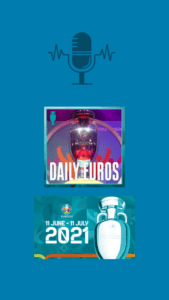 osscompany.ie