In case you are unaware, OSS are taking part in a two year corporate partnership with Autism Assistance Dogs Ireland. After our Inishowen event (which you can read more about in our recent posts, we are grateful to have reached a milestone in our fundraising efforts, passing the half way mark for our annual fundraising goal, €5,734 raised of our €11,000 target for next Summer!
Thank you to all friends, family or others in the construction, industrial and events space that have generously supported us so far, we are delighted with where we are at and would love if you could keep spreading the word so we can all be part of making a difference!
Updates to come soon of the AADI dog that will be trained in our name!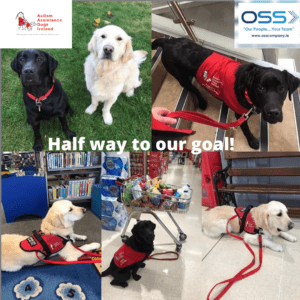 If you are interested in future work in the construction, industrial or events sector, please don't hesitate to get in touch for a confidential chat with one of our office staff on 01 460 5517