'VISION' is a six-part online series hosted by Tommy Tiernan that celebrates the magic of Vicar St, the wonderful people who work there and who add so much to its personality and, most importantly, it celebrates Irish artists and reminds us of their brilliance and importance.  It features many of the acts who have had their shows cancelled this year due to the pandemic and we also invited a small selection of the huge pool of incredible new talent who we hope will be part of the future of Vicar St.
Opening the doors and turning the lights on for those two weeks of filming and working together was a wonderful experience but ultimately bittersweet due to its temporary nature. It was palpable how much the artists miss important performance spaces like Vicar St. It was also palpable how difficult things remain for everyone working in the sector and turning the lights off and walking away from Vicar St again indefinitely was heartbreaking for us all.
OSS were delighted to have been part of this unique production. Thanks to all the crews that made this happen.

𝗩𝗜𝗦𝗜𝗢𝗡 Episode 4 // Tonight 9pm 💥
Hosted by Tommy Tiernan
Music & Conversation from:
✨ Bell X1
✨ Colm Mac Con Iomaire
✨ Soda Blonde
✨ Foil Arms and Hog

Tune in at 9pm here: bit.ly/VISIONEpisode4 🎥 📺
Supported by : Department of Tourism, Culture, Arts, Gaeltacht, Sport and Media
#VisionAtVicarSt # #ourpeopleyourteam #eventsindustry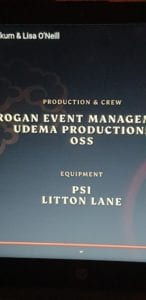 ..